Paneer is a kind of fresh cottage cheese which is very popular as a cooking ingredient in every parts of India. People keep on trying different recipes with paneer and they come out with some delicious dishes as a result of it.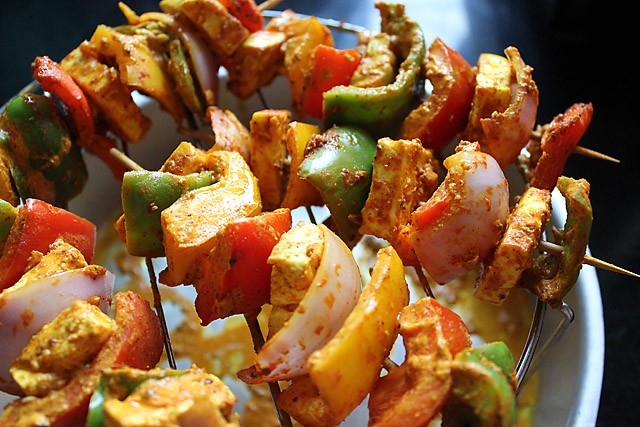 From Paneer tikka to Paneer butter masala, every paneer dish has its own signature style and paneer is something which a favourite for both vegetarian and non-vegetarian people. No one can ever deny a paneer delicacy for sure.
Kadai Paneer
This is a very simple preparation of paneer and one can easily try this at home. One has to sauté the paneer cubes along with some freshly cut capsicum. They should also prepare a tomato and onion based gravy which should be mixed with capsicum and paneer with a special mixture of spices known as the Kadhai Masala. The best part of this dish is, one needs to grind and roast some signature Indian spices for this dish like Cumin seeds, Dry red chillies, Fennel seeds, Coriander Seeds and whole Black peppercorns. If you use these fresh and grounded spices, then it brings a completely different flavour to this dish. The best part is, the actual taste of paneer remains untouched here and the tanginess of other ingredients only adds to the gravy. One can also fry or roast the paneer a little bit before adding them to the gravy. This dish goes best with Parathas, Naans and Chapattis.
Paneer Butter Masala
This is a traditional Indian recipe which has its origin in Punjab. One needs some soft cubes of paneer which should be cooked in tomato and rich, creamy butter gravy. The signature sign of this dish is the rich and creamy gravy and the aroma of it. One has to use onion paste, tomato puree, cashew paste and some other spices to give the best taste to it. This dish has gained a lot of popularity over the years and in regular dine outs or even at home, this is a common dish that one loves to make. This is an absolute combination of both creamy and spiciness and the paneer cubes make this dish very sumptuous. It goes very well with Tandoori Roti, Naan or Phulkas. One can also pair them up with Jeera rice.
MalaiKofta
This is again a very popular North Indian dish and as the name suggests, Malai is cream and Kofta is fried dumplings which are made from paneer, mashed potatoes and other seasonal vegetables. This dish also has rich and thick gravy which is made from tomato puree, cashew nuts and onions. The spices and ingredients are chosen depending on whether the gravy will be brown or white. One can pair up this dish with Missi Roti or plain Chapattis. In fact, this can also go well with plain rice. The best part of this dish is, the paneer is a bit crunchy from outside and very soft at inside.
One can make some very delectable dishes with paneer as they are readily available and easy to prepare.