Fashion doesn't need to be expensive and branded. It is a matter of perception and taste of the wearer. Plus size fashion becomes a dilemma to any plus size women. However, dressing accordingly to the body type and right clothing, plus size women can look good as well.
Nowadays, a lot of companies are creating clothing with beautiful designs that fit for plus sized women. It addresses the problem that some plus sized women have difficulty in dressing the right clothes that fit their body types.
With the evolving world of fashion, there is no excuse for a fuller-figured lady to hide in oversized, boring and baggy clothes. There are many tips about fashion; here are some of them for the plus-sized women.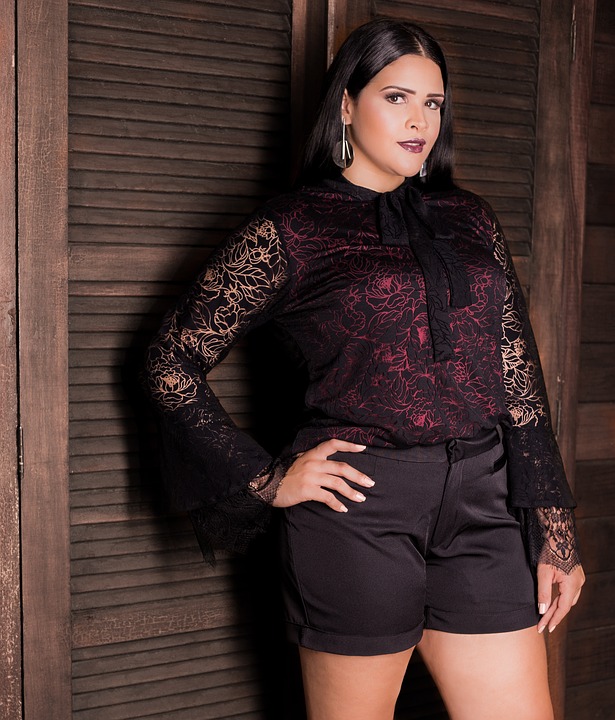 Dress Monochromatically
'Monochromatic' basically means wearing a color that is at a different wavelength. It means that if possible wear clothes that are from one family color. Wearing monochromatic colored clothes is one of the safest and best ways to flaunt a slimmer look.
Matching clothes that are in the same nuance from head to toe can create a fit body without emphasizing anything. Some people may think that wearing monochromatic colored clothes are boring. However, it is a tip that will never go wrong.
Unlike when wearing clothes with contrasting colors, this style will only allow people to focus on one feature which is the sides. Contrasting colored clothes can make a person look bigger. High contrast colors blend and chop the frame giving a wider look.
Monochromatic clothes can also block any extra details. To brighten up a monochromatic outfit, match it with a bright color accessory. With this kind of technique, there can be an additional accent to the outfit. It will also highlight the part where the accessory is, and it can also add a curve to the wide areas.
Know the Basics on How to Emphasize or Hide Some Areas of the Body
Sometimes when people with big frames play with colors, patterns, and cuts, it usually draws other people's attention to or away the figure. Here are some techniques on how to properly utilize patterns, colors, and cuts.
Keep in mind that dark colored clothes hide areas, while the lighter one's highlights. For women that think that their waist is their assets, wearing a light belt over a dark top is perfect. However, if there is a need to hide the bottom half, then wear a lighter top matched with dark pants.
Big patterns contribute to making a person look big, just as small patterns make them smaller. There are a lot of choices to choose from online sites such as French Connection, where you can opt for sizes that really fit you.
If possible, try avoiding horizontal stripes. However, if there is an urgent need for wearing stripes, plus sized women are advised to wear the vertical or diagonal stripes. Both types of stripes will make the no emphasis in the bust area. However, if the bust area needs a highlight, horizontal stripes can aid in enhancing the bust line.
Wearing ruffles isn't a sin. However, if possible don't put ruffles on areas that need to look smaller. Instead, put the ruffles on sections that need some emphasis. It can make whoever is looking to focus on the areas that have emphasis.
Alternatively, wear ruched or gather fabrics on the areas that need to look smaller. One example is a one-piece swimsuit that has a ruched panel placed on the belly
Also, have proper knowledge of colors that fits the body. Choose colors that will flatter and make the skin tone glow. Instead of making the wrong choice that will make the skin washed out and shallow. Choose a right fit baggy dress or blouse that will give a stylish and well-dressed aura.
Avoid any clothes that are too tight to hug the body. Tight clothes on a fuller-figured body can exaggerate the weight. It is better to wear a woman's clothing that will fit the body perfectly. Forget the size tag attached.
Takeaway
To sum up the tips, here are strategies that are perfect for a plus sized woman.
Always ensure a proper fit. If possible, avoid wearing oversized clothes and too many layers just to hide the body. Layers and oversized clothes can make a person look bigger than usual. Wearing clothes that have great fits will not make you look thick. Also, a perfectly fitting bra can help eliminate the unevenness that distracts the eye.
Make sure to know the body scale right. When wearing a lot of prints and accessories, always be sure that they won't be bigger in comparison.
Know the art of playing with shapes, details, and prints. Strategically working with details can make the eye focus on the whole outfit not only on certain parts. The best stripes for plus sized gals are vertical ones. Vertical patterns give the wearer a chic, elegant and classic look.
If ever the confidence in rocking that fashion statement is not there, trying some home exercises to be more fit won't be so bad. A little bit of sit-ups, or maybe a 5-minute jump rope exercise, will be much of a help in reducing some so you could achieve that fitter body you'd like to have.