Events are all about gathering a group of people celebrating a particular occasion which could be anything from graduation, a sporting event, a wedding, a festival, a musical concert or a birthday party. Apart from the decorations, food, and festivities, an event is incomplete without taking photos and recording videos to make the event a memorable one. Capturing special moments of an event is going on for ages, only the cameras have gone advanced. First people used to put a film reel on camera and then send the picture to a lab where they were developed, and then people could see them. Now every smartphone has a camera which can take amazing photos, and a person can take as many photos as he/she likes.
A relatively new concept that has quickly become famous is the use of a drone camera to cover the event. Drone event photography provides a bird's eye view and captures a single angle but entire view of moments which was not thought possible before. Drone cameras canvas the entire event which defines all the fine moments of the event. People use selfie sticks, but people have still left out of the photo, or the picture is of the low-resolution phone. Drone photography can provide a variety of options along with maintaining the quality of the images.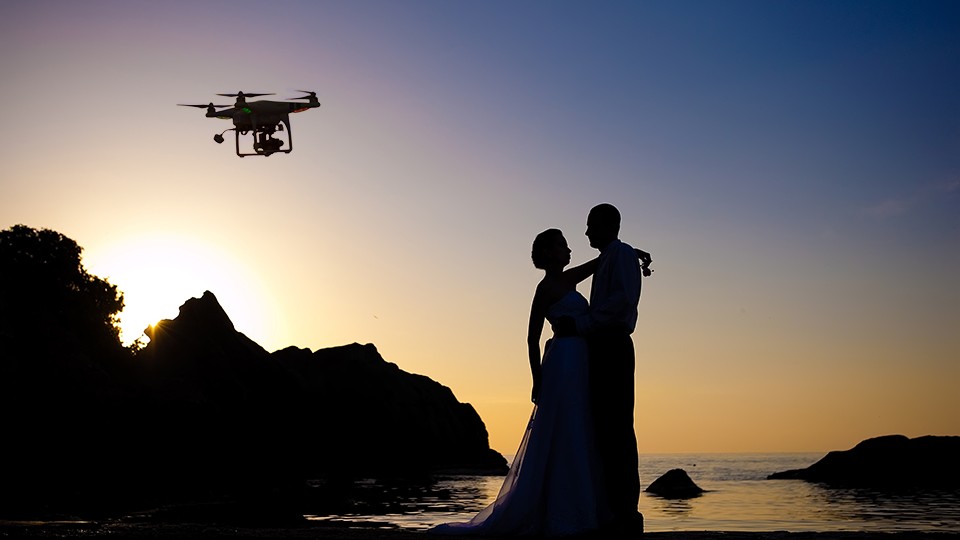 The drone camera is an unmanned aerial vehicle (UAV) which is fitted with an innovative camera capable of capturing both photographs and videos. The devices hover above the event capturing images and video of not only individuals but the event on the whole. If a wedding is organized at the beach near the mountains, the drone camera can beautifully present the landscape of the event splendidly. While taking pictures or making videos there is sometimes quite a distraction when children run around or cats or dogs intrude in, drone photography is done without even a hint of distraction.
The advantages of drone event photography are:
Flexibility and versatility
Due to their small size, the drone cameras can take pictures and make videos from angles and height which was even difficult with helicopters. The device can fly from a few centimeters off the ground to over 300 hundred feet up in the air. In different height, the quality is the same and does not change.
The drone camera is very fast and quick. The drone camera can operate in light rain too which can add a subtle touch to your event. There are also options for 360-degree rotation, Time-lapse images and aerial views in a short amount of time and while the event is ongoing.
The drone cameras can shoot in full High Definition (HD) aerial footage and 4K resolution pictures and videos