Due to the mild climate, heavy waves and winds that occur near the coast, the beaches of Portugal are considered to be ideal for surfing at any time of the year. A combination of natural factors gives an excellent opportunity to enjoy the Atlantic Ocean in a special way.
A variety of wave characteristics on different beaches all over the coast are suitable for different levels of complexity, creating optimal conditions for practicing water sports for both professionals and beginners. You will find there everything your heart desires: organized tours, surf schools, and an excellent weather! So, when planning a trip to Portugal, be sure to check out the following beaches for surfing.
Praia da Arrifana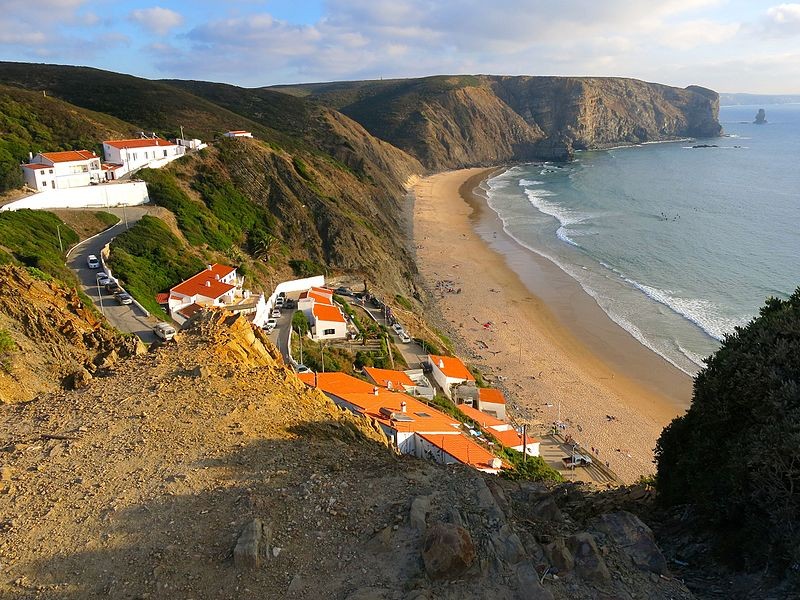 The secluded Praia da Arrifana is a place where the raging waves are born. It's surrounded by majestic rocks and situated near Aljezur fishing village in the south-west of the Alentejo region. Praia da Arrifana is incredibly popular among surfers and body boarders.
Near the beach there's the National Reserve of Costa Vicentina – a huge green massif, harmoniously complementing a beautiful coast of Alentejo.
GPS Location: 37.295698, -8.864783
Nearest Airport: Faro Airport – 113km
Praia de Carcavelos
Located just 24 km away from Lisbon, Carcavelos is one of the most visited Portuguese beaches. Taking into account the growing popularity of this beach in summer, try to take a place as early as it's possible. Relatively small and safe waves, as a rule, attract novice surfers.
Praia de Carcavelos features well-developed infrastructure: shower rooms, toilets and changing cabins. The best way to relax after the waves and get an excellent suntan is to play volleyball or basketball. The beach also offers restaurants and bars where you can eat tasty food for cheap.
GPS Location: 38.680828, -9.337084
Nearest Airport: Lisbon Airport – 27km
Praia do Norte
The highest and the most powerful waves are usually born near Praia do Norte, reaching its peak by the middle of autumn. In November 2011 the famous American surfer Garrett McNamara received there the Billabong XXL Global Wave Award for conquering the 90-foot wave and was listed in the Guinness Book of Records.  After that, Praia do Norte became even more widely known.
Being on Praia do Norte, don't forget to visit Miradouro do Suberco, a viewing platform that offers a stunning panoramic view of the entire ocean coast. Also, try the specialty of local cuisine: grilled sardines and traditional "caldeirada", stewed cod with vegetables.
GPS Location: 39.612456, -9.084482
Nearest Airport: Lisbon Airport – 117km
Praia do Martinhal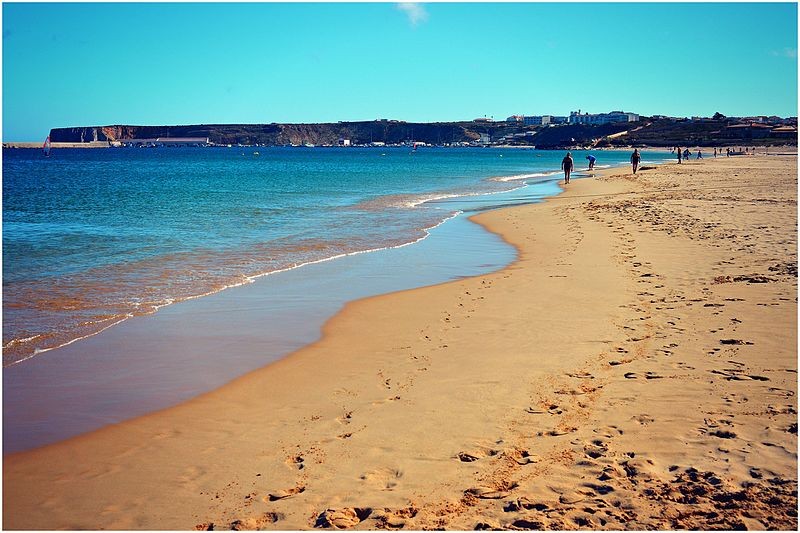 The small village of Sagres became the surfing epicenter thanks to incredibly powerful and impressive waves. The southern Portuguese coast, Algarve, offers a lot of interesting things: diving and acquaintance with the exceptionally diverse marine life, whale and dolphin watching. The Algarve coast hides secluded grottoes and paradise beaches all over the coastline. If you are a beginner, then you can also find there surf schools and learn the basics of this sports in a couple of weeks.
GPS Location: 37.020392, -8.925634
Nearest Airport: Faro Airport – 105km
Praia dos Coxos
Situated to the north of Lisbon, Ericeira is considered to be an international mecca of surfers and bodyboarders. It includes beaches known for exemplary conditions for surfing. So, Praia dos Coxos is among them. This beach is located in quiet deserted place, so even in the high season there are not so many people there.
In addition to surfing and relaxing on the beach, you can go for a walk to the town of Mafra and try Portuguese sweets, or visit traditional fish restaurants of Marisqueira.
GPS Location: 39.004352, -9.425178
Nearest Airport: Lisbon Airport – 49km
Praia dos Supertubos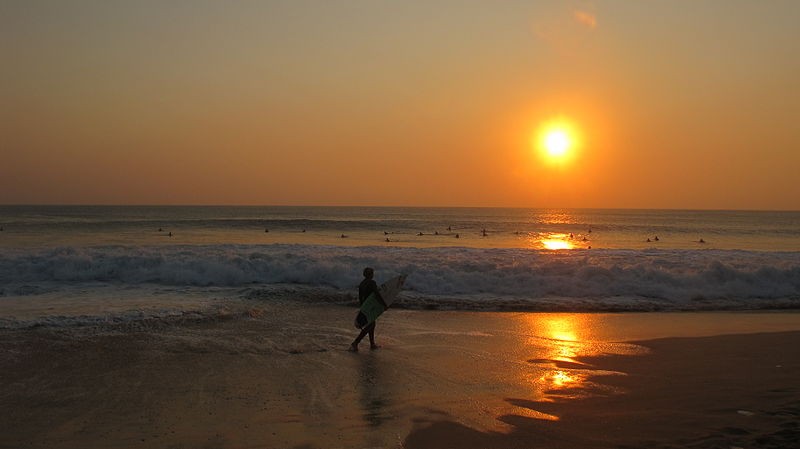 The beaches of Peniche made Portugal the European capital of surfing. The most famous of them – Praia dos Supertubos, is famous for powerful turbulent waves that many surfers call the 'European pipe'. Each year the small town of Peniche hosts international competitions of surfers ASP World Tour, which involves thousands of fans of waves from around the world. During surfing lessons, you can stay in camping, coastal hotels or rent an apartment or villa.
GPS Location: 39.351047, -9.366827
Nearest Airport: Lisbon Airport – 95km
Praia do Cabedelo
The beach of Praia do Cabedelo, surrounded by sand dunes and wild vegetation, offers a magnificent view of Figueira da Foz. Also, it's ready to accept both fans of a quiet family vacation, and fans of extreme sports. Frequent strong wind creates ideal conditions for surfing, and doesn't bring inconvenience to holidaymakers – you can take an umbrella, a tent or a windshield right on the beach.
GPS Location: 40.142214, -8.866106
Nearest Airport: Porto Airport – 145km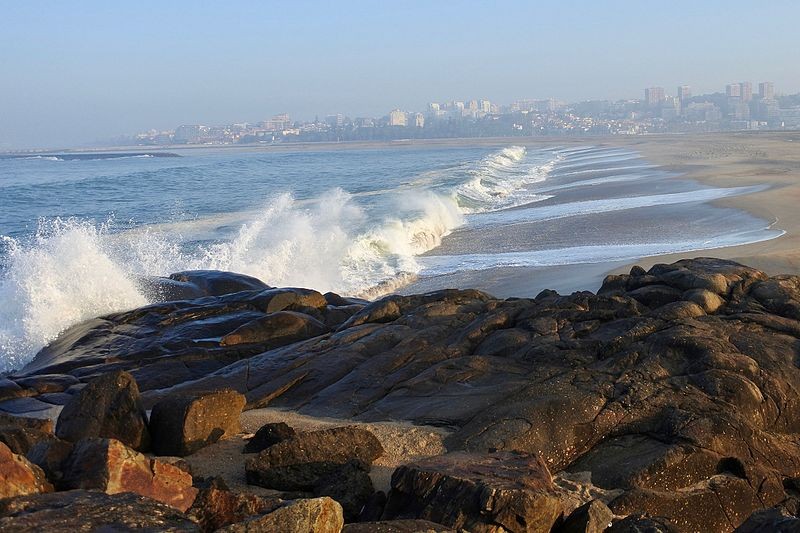 Portugal is an excellent destination in case you like surfing or different extreme water sports. However, as you see, the most incredible surf spots are situated in the south of Portugal – Algarve. So, if you decide to visit them, just rent a car at Faro Airport, and follow the GPS Location of your favorite beach.